Spring Sun Brings Parasite Fun
Spring is right around the corner, and while that brings better weather and sunnier days, it also brings out the fleas & ticks that are attracted to your pet. By keeping current on your pets preventatives, you can rest assured that your home will be parasite free. Read on to learn more about the dangers of pest infestations and what products we recommend for your pets.
Why are parasites dangerous?
From fleas & ticks to heartworm and other internal parasites, each pest brings its own dangers to your pet. Beyond being a nuisance, fleas can also spread diseases and parasites. Although rare, some of the most dangerous diseases are flea-borne typhus and bubonic plague. If a feal infection goes undetected, your pet may develop a heartworm or tapeworm. Tapeworms may occasionally infect people as well. 
Heartworm can affect both dogs & cats, and if left untreated can lead to death. A simple mosquito bite can infect your pet, but if they are kept up to date on their monthly preventatives, they have a fighting chance against infestation. Check out this map from the American Heartworm Society from 2019 that illustrates how many cases of heartworm there are in the US, and where the most dense positive cases are.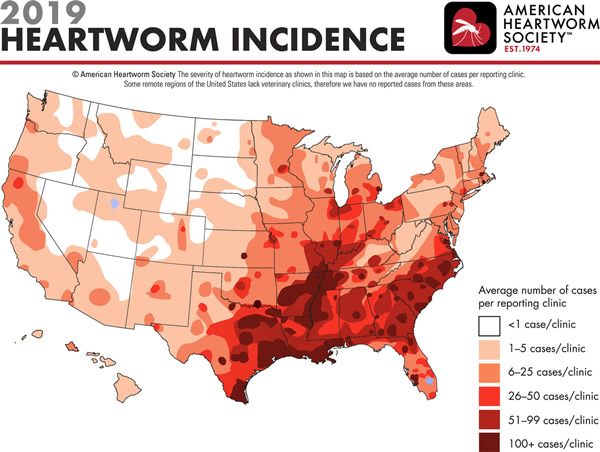 We recommend keeping your dog on both flea & tick as well as heartworm prevention year round (because even Winter can't keep the parasites at bay!) We carry both topical and oral preventatives for dogs.
Flea & Tick
The market is full of different choices in preventatives for your dogs, but which ones are the best? We recommend either Bravecto or Nexgard. They are both flavorful chews, but they differ in the length of protection they offer. Bravecto is given every 12 weeks (or 3 months), while Nexgard is given every 30 days (or 1 month). The other option for prevention is a topical product. We recommend Revolution, which is applied to the back of your dog once a month.
Heartworm
Just like flea & tick, there are a lot of choices when it comes to heartworm prevention. but our Caring Vets recommend either Sentinel Spectrum or Iverheart Max for your dogs. Sentinel Spectrum is listed as a chewable tablet, and Iverheart is listed as soft chewable. These may sound trivial to us, but to your dog – taste matters! They both offer protection from heartworm, but picky pets will often eat one and not the other. 
To sum things up, preventatives are a very important piece to your pets overall health. By maintaining a consistent schedule, you can keep your pet parasite free and in turn, keep them infection free as well! Check out the rest of our blogs with tips & tricks, informative articles and fun facts!